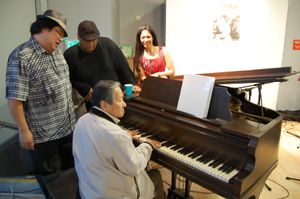 Our first performance of 2016 (January 31st)  was also the first  
Club Mandalay
PopUp jazz club of the year at the I-Hotel Center - and boy did we start the year off great with a packed house of familiar and new faces, new community connections and the honor of sharing the stage with seasoned professionals.
As the house band of Club Mandalay we warmed up the crowd with our first
Kul Jazz
composition, "The Birth of Kul" and continued with a set that included some brand new arrangements.  We were really excited about the new tunes and were even wondering if we could pull them off - but if there is one audience that we know will always give us support it's the I-Hotel crowd.  Sure enough, they were right there with us giving us much love . . . and even a standing O (teehee).
Visiting Philippine vocalist Jacqui Magno took the stage next to thrill her Bay Area fans with a set of songs that also featured the awesome Rey Cristobal on piano.
Transplanted Philippine jazz greats Evelyn & Miguel Juteau then graced us with their signature bossa nova selections and 
Autonomous
had so much fun performing two impromptu bossa tunes with them as the afternoon's finale.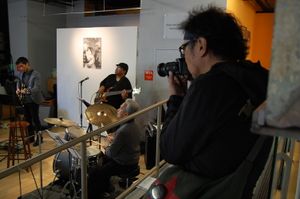 One surprise guest at the festivities was photographer extraordinaire Tony Remington, who took some of the most iconic photographs during the 1977 I-Hotel Eviction and has continued to amaze us with how he manages to capture so much action, emotion and depth in one shot.  We were very honored to have him capture our moment in time this afternoon.  I can't stop looking at his photos (
www.facebook.com/theautonomousregionsf/
).
We were also so happy to have made a connection with PopUp Chef Beverly Bitagon of Chickpea Chick.  Her gluten-free chickpea based flatbreads featuring amazing internationally-inspired savory toppings was a big hit with this crowd - especially her Philippine inspired chicken adobo topping that she prepared especially for this event.  It means so much to both me and Bev to see our community not just enjoying delicious food - but food that is also nutritious and health enhancing.  If you missed her in January, don't worry she wants to come back to the next Club Mandalay (perhaps April 24th?)
One surprise guest who came to the show was jazz pianist, arranger and composer great Boy Palacio.  We didn't have the honor of hearing him perform this afternoon (but that will change the next time I spot this maestro in the crowd), but after the show was over he stayed behind to give
Autonomous
a mini Master Class.  
For me personally, this was the epitome of everything we're trying to accomplish at Club Mandalay: a cross-generational community experience that goes beyond just an audience watching a show. At Club Mandalay the whole family can come out to listen to and make music, to dance, to eat, to talk story, to laugh, to hang out . . . and in the case of
Autonomous
in particular, to learn from a Master.